---
Services: Art Direction / Design / Production
---
All covers from Linkin Park - The Hunting Party era. Original artwork by James Jean. Characters converted into 3D by Brandon Parvini. Creative Direction by Mike Shinoda, Joe Hahn, Rickey Kim. All art direction and design concept, packaging and print was handled by me.

Concept behind design was that these characters exist in a world of a constant loop. The layout is designed in a vertical format to allow the user to unravel the mess of a world that The Archer (cover) is about to "fall into." The user's eye follows the archer's arrow downwards, as their eyes are falling down the fold out, so are is the text and the characters. The same vertical fold motion is repeated for the back. The back of the fold out is where you meet The Hunting Party. The design of the website was also done in the same manner. I developed a wireframe and design that would make the user experience the website in a vertical "fold" motion to mimic the album artwork.

I developed over 200 marks created with a combination of brush, ink, scanner distortion and computer. While a lot of these marks never made it into the album artwork, a lot were used in stage visuals done by Ghost Town.
The Hunting Party artwork and assets were inspired by artist
James Jean
. James provided us with 20 character illustrations. 3D Artist Brandon Parvini then converted them into 3D with complete 360 view. I used both 2D and 3D throughout Linkin Park's
The Hunting Party
era for all album packaging, collateral and merchandise.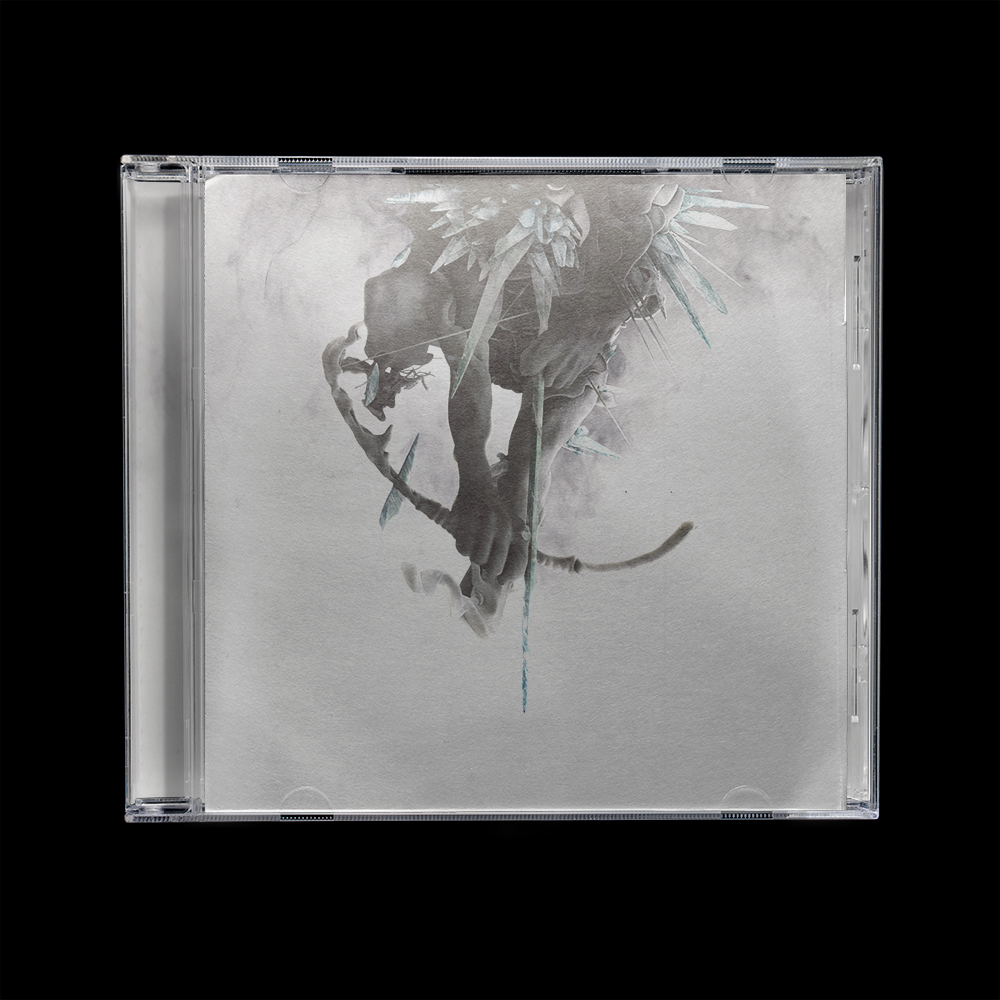 Design details. CD insert folded out vertically and visually, took the viewer through many phases and introduced many characters before reaching the "bottom." The band's website also mimicked the same design, with a parallax scroll that had characters appearing as you scrolled.
.Com Website
Large format newsprint collateral
included with all merchandise purchase at shows.
Select examples merchandise design using artwork from the album's era.
---
ABOVE The Hunting Party Era, 2013 – 2014
Art direction, design and print production for CD and vinyl packaging of Linkin Park's Recharged album.

Concept behind album design was inspired by the album's mood: high octane, aggressive technologic. The result is an explosion of body parts and buildings in a surreal science fiction world. Inside packaging features the same mood, but through typography. All collateral during this era matched the album artwork.

Computer generated graphics of body parts and architectural worlds by Brandon Parvini. Creative direction by Mike Shinoda, Joe Hahn, and Rickey Kim.
Artwork was comprised of body scans of the band members by Brandon Parvini.
See select screenshots.↘



---
ABOVE Recharged Era Artwork, 2013